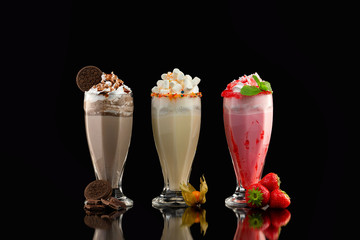 Who doesn't enjoy a good milkshake? Richard Gorra notes that, while many of us enjoy milkshakes and rich desserts, most of us do not give much thought into how to make a quality milkshake even better with just a few easy steps and considerations. Acknowledging that we often fall into routines and stop experimenting with culinary endeavors that we find simple and not in need of a revamping, Richard Gorra includes a few easy ways to make a simple milkshake even more delicious than you'd ever imagine. Instead of settling for a "good" milkshake, Richard Gorra instead encourages the budding home cook to pursue a great one.
Cold Cup, Soft Ice Cream: When attempting to improve the quality of a tried and true favorite, it is always important to consider the individual components. At its base, a milkshake is simple in its contents- milk, ice cream, and perhaps some additions. Because a milkshake is so simple, there is a bit of pressure to make sure that each component is working optimally. For easy blending, use ice cream that has begun to appear soft but is not completely melted. To achieve this, leave your ice cream on your counter for just a few minutes. If keeping your milkshake cold is a priority, using a cup that has been placed in the freezer for a few minutes will ensure that your milkshake holds its consistency even on hot days.
Consider the Ratio: Richard Gorra has noted from his years of making milkshakes that the ratio of ice cream to milk is the biggest factor in determining whether your milkshake will be incredible. For a typical consistency, consider using a 2-1 ice cream to milk ratio to keep your milkshake from being too diluted. Less milk can be used in the milkshake for a thicker consistency but be aware that a thicker milkshake may need more effort to blend adequately.
Additions are Your Friend: Most of our favorite milkshakes have an addition of some kind to bring it all together. Cookie pieces, candy, caramel, etc. are all worthwhile ways to spice up a milkshake without making it too rich or decadent. For those that need a bit extra flavor, a splash of vanilla extract can bring out some of the more subtle, sweet notes in your milkshake. Many enjoy the addition of store brought whipped cream but with a little heavy cream, sugar, and vanilla, you can make your own whipped cream for your milkshake. Thoughtful additions are bound to make your milkshake a showstopper with only a bit of extra effort.